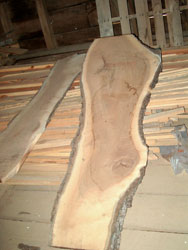 My commitment to respecting our environment and dedication to green industry values carries through in my business. Eighty-five percent of the lumber received at Sell & Associates comes from urban timber rather than disposing of the logs in landfills. Our remaining lumber stock comes from my personal farm, purchased from local loggers, and from reclaimed beams and lumber from old structures.
Utilizing urban timber provides access to species of trees not commonly or easily found. At any given time, we have access to or inventory of hard-to-find species just waiting for the right cutting order. Hard to find species include Mulberry, Sassafras, Ginkgo, Osage Orange, Magnolia, Persimmon, Dawn Redwood, White Poplar, Elm, Birch, Beech, and Cherry Bark Oak.
The majority of lumber cut and sold at our mill are the most common species of timber such as Loblolly, Short Leaf, White and Long Leaf Pine, White and Red Oak, Yellow Poplar, Soft Maple, Ash, Pecan, Hickory, Walnut, Cherry, and Eastern Red Cedar.
My milling specialties are providing quarter sawn tight-grained or close-grained pine used for renovation of 1800 and early 1900 houses and barns, and the production of wide plank flooring with character 4" up to 10" wide.
Every job milled at Sell & Associates is a custom cut order. Every customer has his or her own unique project and request. A few of the services our on-site mill provides are:
Cut to specification logs provide by individuals or other log sources, and resawing your logs or cants.
Custom cut posts in eastern red cedar, beams and mantles.
Production of wide plank flooring with character 4" up to 10" wide.
Book matching for musical instruments, furniture and cabinets.
Production of furniture and cabinet grade wood.
Board and batten siding and horizontal lap siding for homes and barns.
Pressure treated fencing for livestock, privacy fences and barn posts.
Rustic cut post and beams for homes and businesses.
Handrails and staircases.
Hand peeled logs.
Timber frame construction materials - red oak, white oak and pine.
Structural trusses for homes, businesses and clubhouses.
Lumber can be stamp graded for a fee.
We offer green lumber and air-dried and kiln-dried services.
Years of experience and knowledge in construction will assure that you will receive the best value for your dollar and the best product for your project!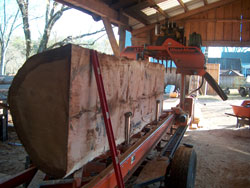 A large red oak log ready to be quarter sawn.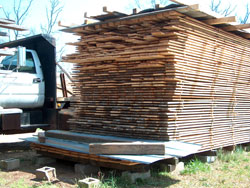 Air-dried pine lumber for lap siding on a c.1920 barn.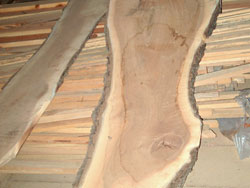 Wide plank walnut boards cut from logs with character.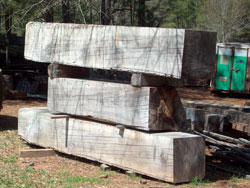 Yellow poplar 24"x24" cants to be cut into 24" wide boards.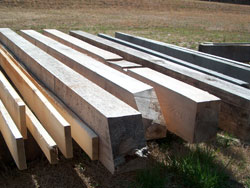 Pine, red and white oak beams stacked for air-drying.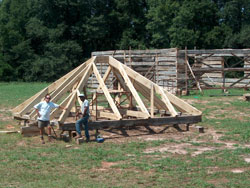 White oak timber frame hip roof cut for a log home and preassembled on our lumber yard.